ZOOM+Care DIY Health Articles
Symptoms, causes, and treatments for Diarrhea
Diarrhea
Symptoms of Diarrhea
We've all experienced it. Loose, watery bowel movements. The repeated trips to the bathroom. The stomach pain.
Diarrhea is common, but it can also be a symptom of several different, and potentially serious, illnesses.
If you have acute diarrhea, it can last up to two weeks. Chronic diarrhea persists for longer than two to four weeks and is likely caused by a medical disorder like irritable bowel syndrome (IBS).
Other symptoms that accompany diarrhea include:
Bloating
Fever
Nausea
Stomach pain
Causes of Diarrhea
Causes of acute diarrhea include contracting one of several kinds of viral or bacterial infections like, as you've probably experienced at some point in your life, a foodborne illness.
Acute infectious diarrhea causes include:
E. coli
Food poisoning, particularly from raw or undercooked foods
Giardia
Norovirus
Rotavirus
Chronic diarrhea is caused by ongoing medical conditions. Common causes of chronic diarrhea include:
Celiac disease
Crohn's disease
Lactose intolerance
Ulcerative colitis
Should I Be Worried?
Staying hydrated is important when you have diarrhea for any length of time. Drinking enough liquids can prevent you from getting sicker. Children in particular are susceptible to dehydration from diarrhea, and should be watched closely in case symptoms worsen.
However, seek immediate medical attention if your child experiences any of the following symptoms while having an episode of diarrhea:
Diarrhea continues for more than 24 hours
Fever above 102 degrees Fahrenheit
Bloody or black stool
Adults should should seek immediate medical attention if the following apply:
Blood in your stool
Fever above 101 degrees Fahrenheit
Severely dehydrated
Severe stomach pain
Schedule a diarrhea visit online or from our iOS app today.
Find a neighborhood ZOOM+Care clinic near you in Portland, Seattle, Salem, or Vancouver.
Additional DIY Articles
Sore Throat; STI; Sinus Infection; UTI; Cough; Ear Infection; Cold; Eye Infection; Bladder Infection; Flu; Rash; Bronchitis; Stomach Pain; Earwax Buildup; Yeast Infection; Foot Pain; Back Pain; Strep Throat; Fever; Asthma; Insect Bites and Stings; Neck Pain; Anxiety; Headache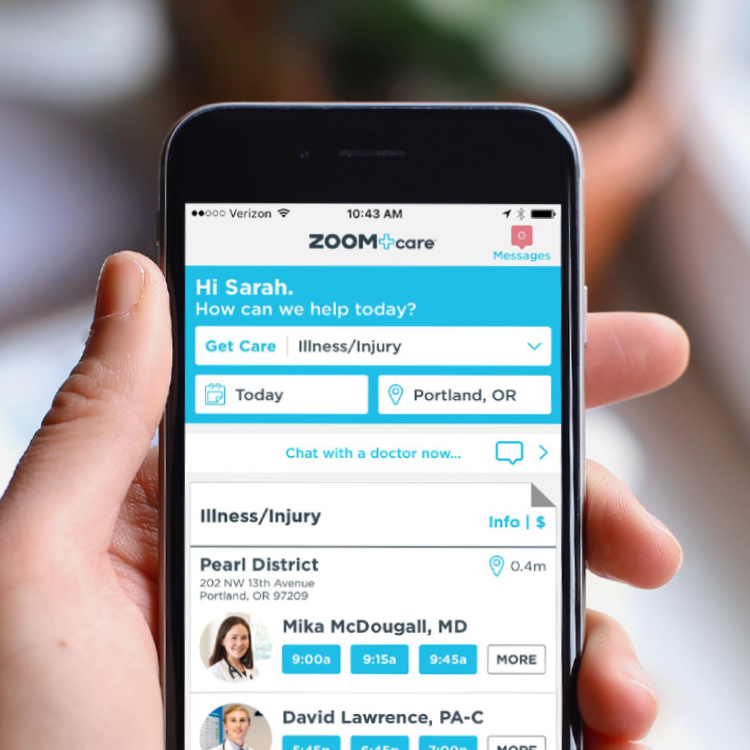 Diarrhea Prevention Tips
Consider these tips to help prevent diarrhea:
Wash your hands. Make sure you wash up after shaking hands or before touching your face or food. Any viruses you may have picked up on your hands can infect you cause an illness that results in diarrhea.
Make sure your food is cooked. Food-borne illnesses are one of the more common causes of acute diarrhea. If you're cooking at home, don't be shy about using a thermometer. If you're dining out, don't be afraid to send back that under-cooked pork chop.