urgent care
Portland Urgent Care I same-day no-wait visits
Welcome to ZOOM+Care Portland
A Better Way to Get Urgent Care
Over 1500 no-wait visits every day

Urgent, Primary, and Specialist Care

Onsite labs and pharmacy

Licensed doctors, additionally certified by ZOOM+Care

Open weekends, late nights, and holidays

Online medical chat

Schedule on the ZOOM+Care App
This is how we ZOOM+Care
Start with the ZOOM+Care App. Instantly schedule a same-day visit or chat our doctors. Get urgent care, as well as primary care, specialist care, alternative care, and much more. Get the App now and start Zooming!
Get Instant Care with ChatCare™. Just start chatting a ZOOM+Care Doctor. Get your complete diagnosis and treatment. Your doctor will order what you need - meds, labs, x-rays, referrals.
Schedule Same-Day Visits. Come in for illness, injury and preventive care. Over one thousand on-demand visits are available every day. We are one team of MDs, NDs, NPs, and PAs – all licensed and additionally certified by ZOOM+Care.
On-Demand Specialists. If you need a specialist after coming to see us for urgent care, we'll refer you to a ZOOM+Care Specialist. Or, just schedule on the App. Our specialists include dermatologists, orthopedic surgeons, gynecologists, and many more. They're awesome and you won't have to wait months to see them. Even better, there's no need to repeat your story. We all work together using our own software - Zoomware.
Skip the ER. If your urgent care it's serious but not life-threatening, we'll send you to ZOOM+Care Super. Or, just go straight there. You'll be treated by board-certified Emergency Doctors equipped with CT, ultrasound, digital x-ray, on-site labs, meds, and much more.
Experience the Perfect Visit™. To start and end on time, we address one problem per visit. The Perfect Visit™ is designed to be 15 healing minutes. You'll see your chart on the screen for total transparency. We'll wrap things up with a Magic Minute™ – we'll review what we heard from you, go over the results of your exam and tests, and provide a crystal clear plan to get you better. Need a follow-up? Chat or come back.
Labs and Imaging too. We'll take any images and run any tests you need, all at ZOOM+Care. Check your results on the App. Your images will be sent straight to your phone. Keep them private or share with your social health network.
Get Your Meds From Us On-site. If you need prescription meds, we'll provide them to you at your visit. Get refills from the App. It's good for you and Zoom. You won't have to drive around town and wait in line to fill your prescriptions. We get peace of mind.
ZOOM+Care is Opioid and Benzo free. Ask us about addiction-safe alternatives for pain.
Pay for Your Care When You Get Care. When you Zoom, you'll pay the portion you owe at your visit and we'll bill your insurance for the rest. That way, we spend more time caring and less time billing. We'll keep your credit card on file so you can get on with your day.
Your Health Records Belong to You. That's right. All your visits, meds, labs, and x-rays will be on the App. We keep them secure. You decide who to share them with... because they're yours.
Wondering if We Take Your Insurance?
Paying for your visit is easy.

When you Zoom, you'll pay the portion you owe at your visit and we'll bill your insurance for the rest. That way, we spend more time caring and less time billing. We'll keep your credit card on file so you can get on with your day.
We accept most insurance plans. From Aetna to United Healthcare, we take payment from over 20 insurers, which means we'll likely take yours. We'll bill your insurance company and you pay what you owe at our clinic after your visit.
Don't have insurance? We have uninsured prices on the wall. No big deal.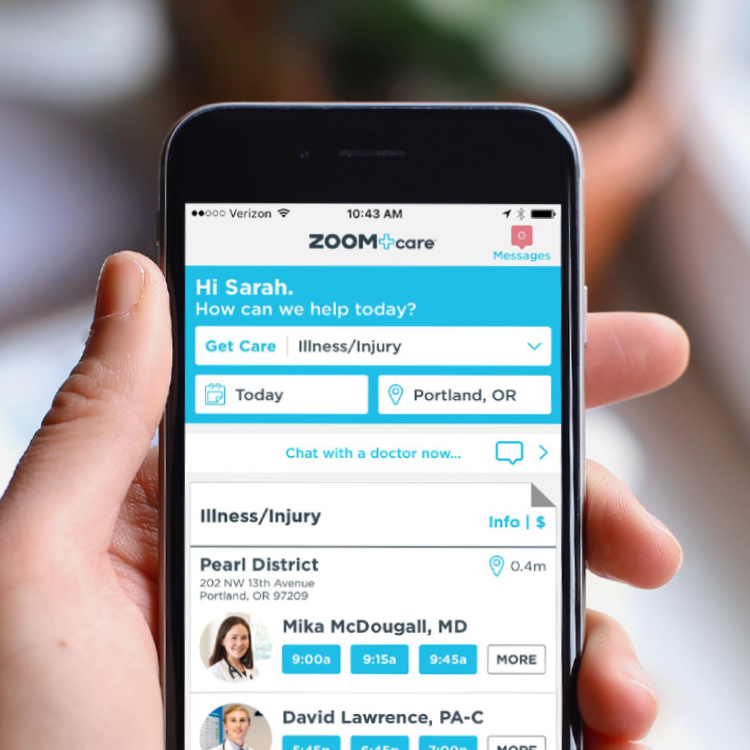 What We Treat
Our Portland urgent care clinics treat hundreds of conditions.
Room No. 1 in every ZOOM+Care is dedicated to providing adults and kids with the best illness, injury and preventative care. Our urgent care doctors treat strep throat, bronchitis, broken bones, fevers, rashes, and sinus infections. From nagging coughs and strep throat, to UTIs, prescription refills, STD testing, sleep apnea, anxiety and depression, ongoing diabetes treatment, and your annual Wellness Exams we're here for you. We treat kids too! Fever, sinus infections, ear infections, and just about anything else.
Complete Care On-Demand
Need more than urgent care? We have specialists on-demand in our neighborhood clinics too! Same no-wait visits, no referral required. Schedule a visit with our board-certified specialists:
Dermatology

Gynecology

Orthopedics

Ear-Nose-Throat (Otolaryngology)

Podiatry

Mental Health

Internal medicine

Pediatric care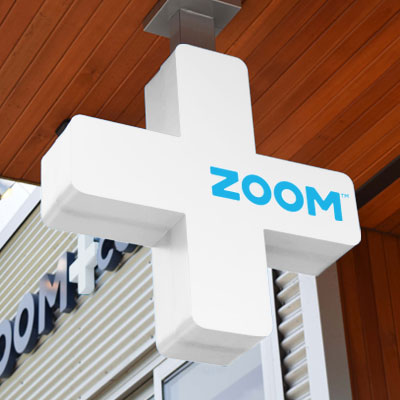 Our Urgent Care Providers in Portland
What People are Saying
ZOOM+ Yelp Reviews
I had some horrible hip pain and found Dr Jennifer, an Orthopedist. I was able to schedule online for a next day appointment. She was wonderful. She quickly...
One night last week, my daughter's ear really hurt, which was at about 9 PM. Bummer. I was pretty sure it was an ear infection. Our last Zoom Care visit...
Another outstanding visit at ZoomCare! Very friendly and efficient. What would have taken days or weeks at a conventional medical practice was taken care of...